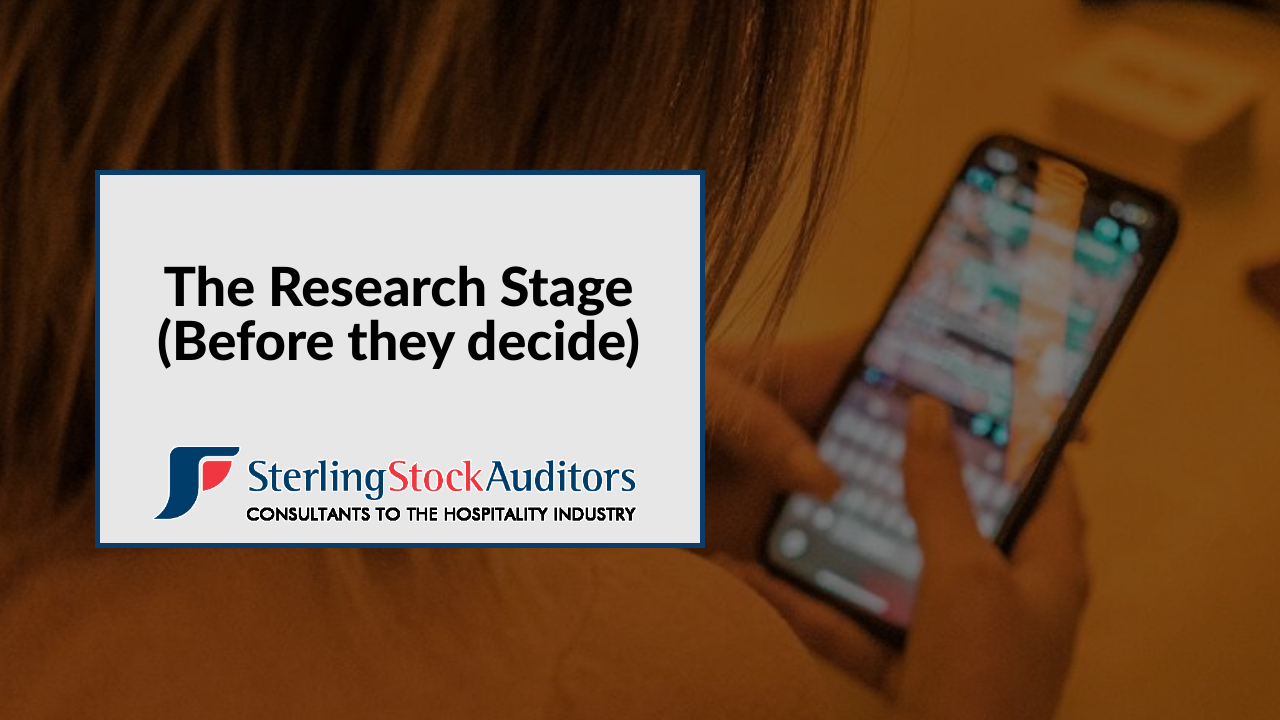 The Research Stage (Before they decide) #CX
People decide A LOT about you and your business, before you ever know about it!! 
It used to be the case that what you published about yourself was the be all and end all of what people knew, other than their closest friends. But now, the power the customer has to research you, your business, and more importantly what others say about you changes everything. Especially when it comes down to customer experiences. 
Throughout this series we will cover all of the following important elements of the customer experience and how to build for the highest levels of success in each area; 
The Research Stage (Before they decide)

The Planning Stage (Once they decide) 

The Journey Stage (The actual trip) 

The In House Stage (While they are with you)

The Post Visit Stage (What happens when they leave) 
As I have mentioned it's important to consider what happens even before you know the customer is looking – When they are in their 'research stage'
What people pay attention to matters!
[ SIDENOTE : Speaking of which – Did you pay attention last article?
TEST – What was the deliberately wrong word in the article? 
Drop me a message to let me know! ]  
Now, people tend to be less impulsive when it comes to eating out, for a number of reasons, but this means they often take to online in a few different forms to help aid them in making their final decision or even whilst shortlisting 
Where do they look and what do they do? Obviously every person is different but here are a few common places people look…. 
They take to Google – Searching by type of food, or restaurants near them

They go directly to platforms & review sites like Tripadvisor – and read reviews

They ask for 'recommendations' on their own social profiles
Let's look a little deeper into the logic behind this, why it matters and what you can do to be front of mind for each of these
Search & Google My Business Listings 
When people take to Google there are many factors that will affect where you appear in these results, such as search engine optimisation (SEO) and keywords etc – but you can give yourself a little lift in this area by ensuring you are appearing high up in 'local search' by making sure your Google My Business listing is up to date. Or if you aren't setup, by setting it up ASAP! 
Having a listing on Google My Business (GMB) means that you can show up in both search results and on maps as a suggestion, and allows you to share short, easy and visually appealing updates and information to help shape this customer journey and experience from the start.
GMB allows you to take control of your online reputation across google, share updates, contact information and photos to help people decide quicker that you are worth their consideration. It is also a place people can and do leave reviews to help others decide based on their impartial experience of your venue. 
If you offer specific services or types of food and drinks then be sure to highlight this on the listings and share menus, and updates to this effect. This will make it easy for people to choose you. 
When done well this alone can help rank you at the top of some searches and also on maps listings. It's time to re-remember just how important the customer is in everything you do. Especially your marketing. Never let them be an afterthought! 
Review Sites – eg Tripadvisor
Websites like Tripadvisor can build and destroy business so it's important to make sure you monitor them and respond accordingly. Any review left by a customer (or anyone else) left unreplied to, in and of itself gives an impression how much you care about your customers. 
Whether these reviews create an image in the customers mind and very much play a part in the customer experience and journey, far before you even know about it. So handle these with care. 
The sad truth is customers will use these even if you don't so be sure you are part of the conversation, or they might wrongly get a different impression about you, which you would then never even know had happened. 
If handled well and managed right, these can build your business fast, because they are visited often and have a captive audience of users ready to spend money. 
Own Social Profile – Recommendations 
Despite all the resources available to them, some people are still, (dare I say it?), lazy and ask on their own social channels for recommendations for places to go out. In essence this an amplified version of the word of mouth friends recommendations of yesteryear, but on steroids! Rather than five to ten close friends, this allows people to ask thousands of people, even hundreds of thousands, when asked in the right groups on certain social platforms. 
So how can you play a role in this area? Easily… 
You need to have someone from your business in local community groups on the likes of Facebook and Nextdoor, where these conversations are happening so you can be part of the conversations. Answer questions and ultimately win their business. 
You also need to make sure your pages on each channel are set up correctly and easily shareable or taggable on the platforms so you can benefit the most from these social asks and recommendations. 
You can even go one step further and use specific tools to allow you to carry out 'social listening' for your brand. Which then allows you to respond in a timely manner to each mention, comment or recommendation. Really showing how much you care & how proactive you are helping your customers. 
Where are you on this customer experience journey? 

Are you doing these things yet? 
Watch out for the next part of this series on;  
The Planning Stage (Once they decide) 
Be sure to follow along on our social accounts & follow the hashtag #SterlingStockAuditors so you don't miss any of this powerful, customer experience improving knowledge & advice.
The Research Stage (Before they decide) #CX
was last modified:
May 10th, 2023
by