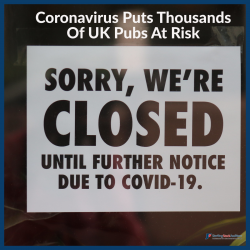 With the recent lock down in the UK, thousands of pubs and restaurants are at risk of collapse. The latest research shows that insolvencies in the sector had spiked before the outbreak and these establishments now look to be more at risk of closure than ever before.
There was a jump of 10% last year from 526 restaurant and pub insolvencies, up to 1,452 this year. This highlights the weak state of the UKs leisure and catering industries even before the pandemic.
While these restaurants and pubs will be given the opportunity to benefit from a business rates holiday, government backed loans and job retention schemes; this may not be enough to save the industry from many insolvencies.
Some well-known high street restaurant chains have already started to feel the impact of the coronavirus outbreak. One example is Carluccio's who have hired FRC Advisory to assess their options. Meanwhile, Wagamama owner 'The Restaurant Group' has appointed administrators to its Chiquito and Food & Fuel chains.
While many businesses across the UK are able to shift their employees to home where work can continue and it is 'business as usual'; this isn't the case for pubs and restaurants across the UK. The possibility of working from home is just not there and selling through the internet may not be an option for some pubs either.
Some pubs and restaurants have decided to carry on, but just changing the way they do this. For example, they are using delivery companies as a way to collect orders and have meals delivered to their customers. The hug down side of this option is that delivery companies that a very large percentage of the remaining income for the pub or restaurant.
If you are unsure how your business will survive during these extremely uncertain times, please feel free to call us. As professional and independent stocktakers for the catering industry we are speaking to lots of other business owners in your position. We are keeping on top of all the latest announcements and will be happy to talk through any options with you.
Coronavirus Puts Thousands Of UK Pubs At Risk
was last modified:
May 15th, 2020
by