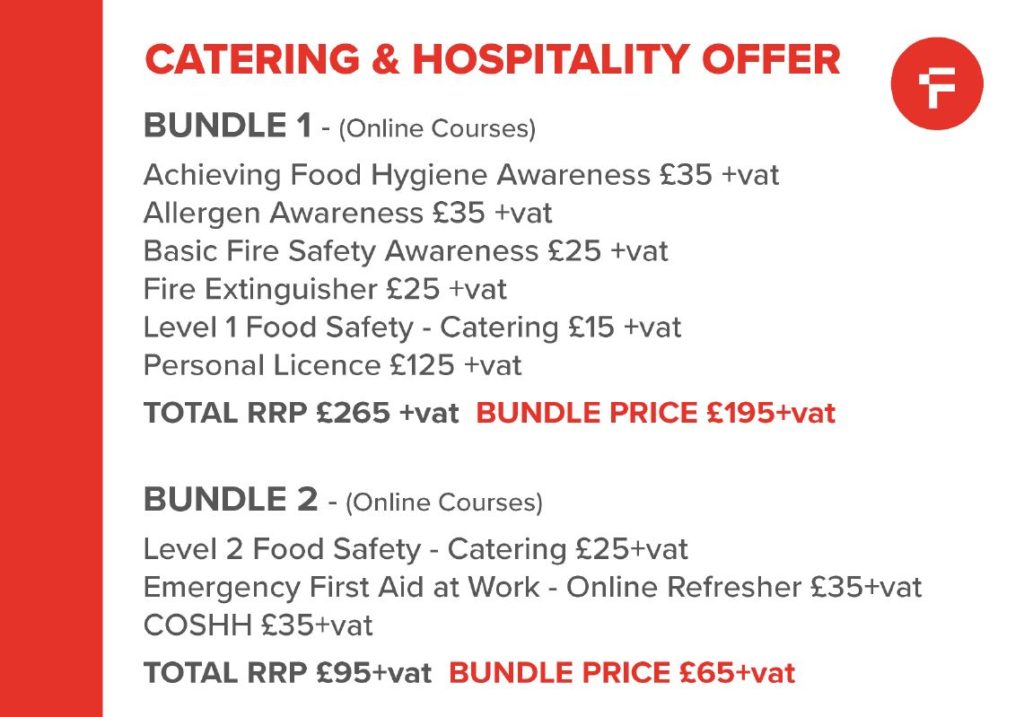 We are pleased to announce that we have teamed up with Flagship Training to bring you Industry Specific On-Line Training Courses.
By being online you do not have the time and travelling costs of going to a training centre.
You also do not need to get a group together as you would if you ran an in-house course and the impact that would have on your business operationally.
In addition we have an on-line APLH (Alcohol Personal Licence Holder) Course.
You are able to study the course, take an online invigilated  the same day, and if you pass your get your Certificate Immediately to go with your local authority application. So if you need to apply for a Licence in hurry this is ideal solution for you.
The Courses are available individually or we have put them into two bundles to give you even more value.
Bundle 1 – (online Courses)
Achieving Food Hygiene Awareness Level 5 £35 +VAT
Allergen Awareness £35+VAT
Basic Fire Safety Awareness £25+VAT
Fire Extinguisher £25 +VAT
Level 1 Food Safety – Catering £15 +VAT
Personal Licence £125 +VAT
TOTAL RRP £265 VAT BUNDLE PRICE £195 +VAT
Bundle 2 – (online Courses)
Level 2 Food Safety – Catering £25 +VAT
Emergency First Aid at Work – Online Refresher £35 +VAT
COSHH £35 +VAT
TOTAL RRP £95 VAT BUNDLE PRICE £65 +VAT
In addition to these Great Prices if you  use the code STERLINGSA10 at checkout you will get an extra 10% discount. This also applies to an individual course purchased.
On-Line Training For The Catering & Hospitality Sector
was last modified:
January 31st, 2020
by