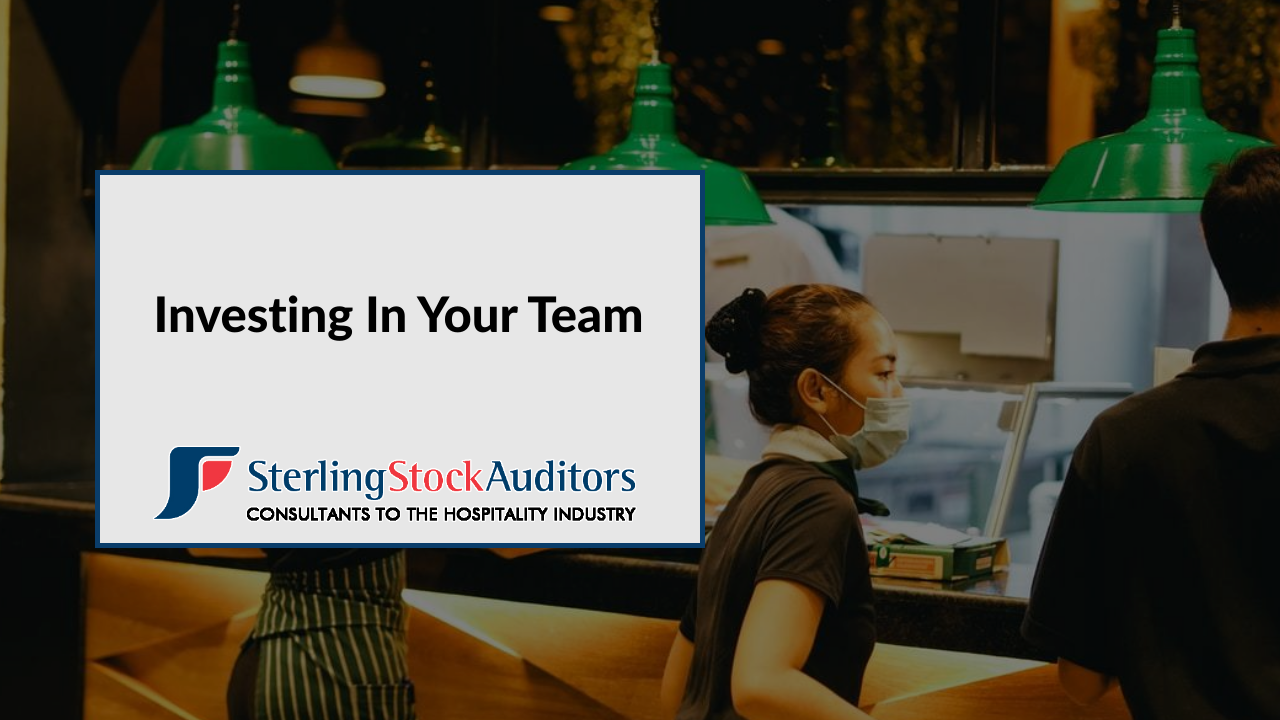 Money is never wasted investing in your team. 
How many of you out there look at training your team, the money spent on it as a cost rather than an investment?
I bet a lot of you will say it was a cost. 
That's the wrong way of looking at it, you probably think that "oh why should I invest in that member staff? Why should I send them on training courses, for them in a few months time to leave? They're going to go off to university. They might go into a different career." 
Fine, they might do, but in the meantime if you've trained them, you spent money training them, they will be the best they can, they will make your business their number one priority when they're at work. 
They won't be worrying about "Oh well I want to do this, I want to do that" 
The only way you can find out what they want to do is by talking to them. 
If you're in a bigger operation, make sure you head to the department of talking to them and feeding it back to you so you can decide what training to provide. 
If you're a smaller place, you might not have the ins to a training company; 
Where do you find out what training they want and what is available? 
There is money out there, there is a kickstart program from the government.
There are apprenticeships, it's all money out there, that the government has set aside to help businesses improve their staff. 
There's up to three thousand pounds there for apprenticeships and you need to be using it – how do you find out about it? 
Well my recommendation would be if you have a chamber of commerce, speak to them. If you have a local enterprise board, make contact with them, look for their website, they've always got training, they know where the money is and what's been made available. 
A lot of it up to now has been European money, somewhere that will end soon obviously with brexit there will be more money coming forward as the government looks to replace European money with their own money, but you need to be plugged into what is going on locally. 
Seek out your local catering college, they will know what is out there. 
Now some of the time, the staff do not just want catering qualifications, that's not what they're looking for. It might be customer service skills not specific for hospitality, it might be just training on social media, it might be training on the computer – a lot of that, there's a lot of training like that out there on the internet that's free. 
What you've got to invest is a time for them to do it, you've got to signpost it. 
They will be your biggest advocates – do not let your staff down, we're short staffed in this industry, let's nurture them, show them their career path. 
If they want to get started with you as a KP and progress, then you need to know how they do that. 
It might be that you're a one pub business, but if you've plugged in to hospitality networking locally, you will know where the next steps are. 
It might be that you if you look after one sibling from one family, they might have a younger brother or sister, they will come through – you're not then having to go out and advertise for more staff. 
So looking after your staff, training your staff is an investment not another cost, so please listen to what your staff want, where you can help them out and invest in them.
Investing In Your Team
was last modified:
November 16th, 2021
by