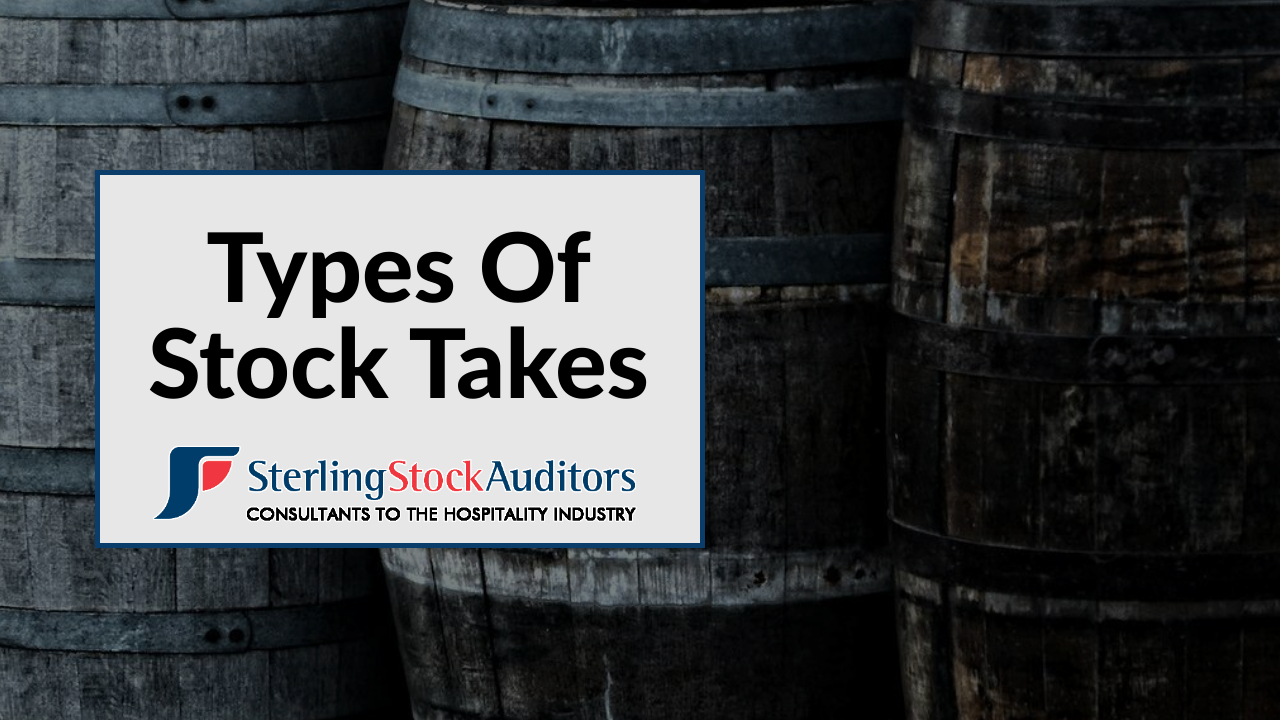 Today, I would like to talk to you about the types of stock taking that we concentrate on in the hospitality business. 
Really we're looking at food stocktaking & wet stock taking. 
Food stock taking (Dry stock taking).
Food is fairly simple, It does what it says on the tin.
If you've got commercial kitchen producing food, then we will stock take.
That is also looking at doing a trading account. So we will value, we put all your purchases on, you give us your allowances, you give us your takings, we come out with a GP, we can then look at that against your target GP, which hopefully you've set when you've done your budgets for the year and we can advise you how to improve it, where it needs tightening.
We can look into how your sales mix is affecting your income and your gross profit.
So that is food stock taking.
The best way to do it on a monthly basis, but we can do it up to a quarterly basis.
Then we have the wet stock taking.
So that is anything that sells alcohol across a bar.
So it might be nightclub, pub, restaurant again, hotel, theatre, anything that's 
got a bar that's open to the public or for membership.
There we do what we call an extended stock take report, so we list everything by the item. So you see what we measure it in, what it costs you, what you sell it at, and then we show stock movement, then that will give you the gross profit per item and over all gross profit.
Then we put in the financials. 
So that's just takings, allowances, any credits.
And then we give your achieved GP and then we do a cash surplus or deficit.
Then we can use that, again we look at have you got target GP? 
Have you made it?
What is your stockholding?
Have you got stuff there that's not moving?
We will identify items as we go around the count that might be going out of date, or will be out of date for the next stock take.
So they have regular stock takes of food. 
Then we've got Annual Evaluations.
They might be for you, if you don't regular stocktaking but your accounts want a value of stock at your account your year end. So we will come in and do that.
And then we do Stock At Valuation (SAVs)
These are for when a premises change hands.
So it might be a tenancy that's changing.
It might be a freehold.
We will count the stock on the day, make sure it's of saleable value on both food and wet. 
We work to the guidelines set out by the Institute Of Licensed Trade Stock Auditors and we come up with a fair valuation for both parties.
That is then given to both parties, the incoming person will then pay the outgoing tenant/freeholder for the stock.
During that we will also add a few odd items and cleaning items might go on there. We will take meter readings or utilities, anything else that goes on there that whoever's doing it the fixtures and fittings valuation hasn't counted.
So if it's crockery, machinery, fridges, freezers they would do it.
If it's cleaning products, might be some light bulbs, might be odd bits and pieces of fuel oil. It might be coal and gas, we will value that. 
But that's a Stock At Valuation.
So there's three main types of stock takes;
There's regular wet stock takes,

Regular food stock takes,

Year end valuations and 

Valuations for changes of ownership known as an SAV.
https://www.youtube.com/watch?v=uyDe-Hi9XJA
Types Of Stock Takes
was last modified:
June 1st, 2022
by